The Fires & Refinement of the Class of 2021
How would you survive if you were bounced between 30 different foster care home or had dozens of siblings? Imagine being forced to go to a new country where no one speaks the only language you know. What would you do if you had the responsibility of caring for five children, all under the age of five years, without the most basic of resources? What if, in the blink of an eye, an accident causes you to suffer a near fatal brain injury that leaves the majority of its victims unable to ever speak or walk again? To any adult, these tasks would be daunting. To a child, they would seem impossible to overcome. For the Show-Me Christian School Class of 2021, these are challenges they have faced and came out victorious. Battles that have not broken them. Trials that have strengthened, refined, and inspired them to set out on a mission that God has uniquely designed each to complete.
From a Junker to God's Classic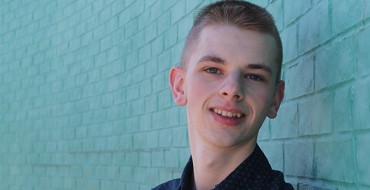 For most of his life, Michael thought of himself as a junker car that was ugly, dented, and unwanted. Born to drug-addicted parents, Michael bounced between 30 different foster homes before he was adopted at the age of 5. He acted out trying to be "cute" as he desperately worked to earn his new parents' affection. His "cuteness" may have gotten him noticed as little child in the foster homes, but his antics created more negative effects as he got older. At school, kids would pick on the childish, short, skinny kid who was always trying to get the teacher's attention. The bullying made him afraid to talk to other kids or make friends. It led to a vicious cycle of problems and isolation. Michael struggled in school, each year falling further behind. For eight years, Michael constantly worried that his adopted family might not want him either. Instead of taking responsibility for his actions, Michael would lie, telling the adults what he thought they wanted to hear. As he got older, his sadness boiled over into anger, then depression. Feeling lost and without purpose, he tried to take his life in 5th grade. His parents felt helpless. If the years of counseling and trying everything they knew didn't help, what else could they do? Someone told them about Show-Me in 2014. They realized that the structured daily routine, positive Christian atmosphere, and one-on-one teaching style was an environment in which
Michael could thrive. "I thought it was going to be a vacation from home – boy was I wrong" Michael laughed. "It isn't easy, but Show-Me is a fresh start for us kids coming here."
When 13-year-old Michael sat down for lunch on his first day, he realized there was something different about this place. Miguell, an older 8th grader, sat next to him and started to talk with him. Michael didn't have to do or say anything to earn his friendship, this guy wanted to be his friend. For the first time in a long time, he didn't feel lost or alone. Over the next few years, Michael learned to accept the love of family. Focusing on his studies and with extra help, he caught up in school. He discovered his mechanical gifts and learned the value of hard work by assisting his houseparents with hands-on projects – gifts he hopes one day to use in his own automotive shop. The biggest change came the day he heard Pastor Alan talk about what Christ's sacrifice meant. It not only showed God's love for us, but it was proof that each of our lives have purpose.
Trusting in that love and believing for the first time that his life truly did have purpose, Michael asked to be baptized. Michael no longer worries about earning God's love or being wanted. He knows that he is a child of the King of Kings. In his senior devotion message this March, Michael used the illustrations of cars to explain to his classmates how God rescues and restores each of our lives. Michael knows that he
is not the worthless junk car he once believed he was. He is a classic Mustang that God is in the process of restoring.
Hope in Hidden Answers
Ever think having a brother or sister can be a lot to deal with, try having 42! Sadie has been a part of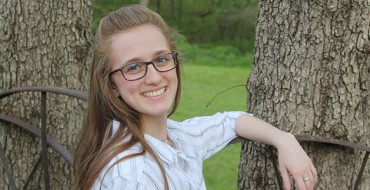 Show-Me all 18 years of her life. Never the oldest and rarely the youngest, she learned to be very observant, keep calm, and find organization in chaos. The details of each siblings story's may be different, but all share a common factor – they are children caught in the crossfire of struggling families. They are broken lives who don't understand how or why they ended up in this situation. Many are angry because so much is out of their control and fearful their life is destined to turn out like their parents. Sadie saw that the thing her brothers and sisters were really searching for was hope: hope for their future found in answers from their past. It is that hope that compels Sadie to seek a career in criminal justice. "The love, loss, and hope I've learned and gone through has taught me to want to fight for hope for others," stated Sadie. "Working for a federal crime fighting agency, my wish is to give hope to the families and loved ones of the victim by finding answers, solving cases, and preventing the suspect from
destroying more lives."
Failure Leads to Success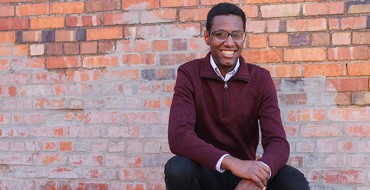 When Jonas arrived in Missouri to meet his adoptive parents, he could only speak and read in his native Ethiopian language of Amharic. Communication was a great challenge since no one else around him could speak it. Without words, how could he let people know how he was feeling or what he needed? Even though over the next few years he would learn English, his difficulty in communicating snowballed into more problems. Jonas began his education three grades behind. The language barrier made
learning extremely slow and frustrating. Despite putting in many extra hours of work, Jonas fell more and more behind in school. His inability to communicate left him feeling angry and alone. He began to believe the lies in his head that he was a disappointment to everyone, he would never be good enough, and he could only count on himself for help. His anger grew more out of control each year, even to the point where he needed to be physically restrained to calm down. Finally, realizing Jonas needed more help than they could give him at home, his parents reached out to Show-Me. The new environment was good for Jonas. The individualized school program allowed him to go at his own pace. The smaller
class sizes and additional help from his teachers gave him the means to understand. He finally had the tools he needed to catch up in school and graduate. Yet, if you ask Jonas what led to his success the most, he will tell you it's "failure." In his endless failed attempts to be "good enough," he realized that no matter how much he accomplished or how many people liked him, he was never going to be worthy in everyone's eyes. It is an impossible task to achieve. "Nothing matters except how God sees you," realized Jonas. "God loves us for who we are, not what we accomplish or what we have. If God considered me – flaws and all – worthy, maybe I could, too." Jonas began listening and trusting the people that God
was sending to help him. In failing on his own, He learned success could be found in trusting God and the community of support He sends for guidance.
A Rough Start for a Greater Cause
Ana never really had a childhood. The oldest of five siblings, Ana became the caretaker early on while her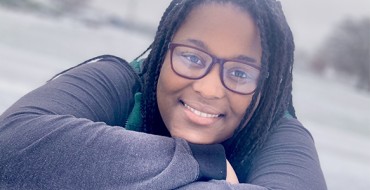 mother was out. There was no time to think about what Ana wanted or how Ana felt, she had a job to do. Her siblings needed her. That all changed in 2010. Two ladies from a Vacation Bible School told her mom about Show-Me. The next thing seven year-old Ana knew, she and her five younger siblings were
living at Show-Me. Her old job was taken away. Her new job was to be a kid. "I was overwhelmed because I didn't know what to do since they didn't want me taking care of my siblings," Ana recounts.
Over the next few years, Ana saw how God had always been watching out for her. She remembered how an unexpected- person seemed to pop into their lives at just the right time when they needed food, a place to stay, or some other kind of help. She realized how God had protected them from the bad people
finding them.
Seeing that the God of the Bible, who was always there for His people, was the same one in her life, Ana accepted Christ. "Jesus used my bad life for a greater cause: my growing and maturing in Him (my Savior)," Ana stated. "Jesus led, not by forcing others to follow, but by being the model that made others choose to follow." Desiring to be that positive role model, Ana heads this fall to college to become a social worker. She hopes to shows young people, who look like her, that they can beat the odds, too. "I want kids, who feel broken like I did, to see that they can overcome their past," Ana said. "They can find another way to succeed, and not become the statistics society says they will be."
Focus on God Can, Not "I Can't"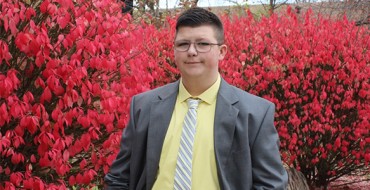 Brendan's life changed in a instant that day in 2016. Playing tag, he ran into a volleyball net, which caught him by the face and slammed his head against the hard floor causing his skull to fracture. He was life-flighted to Children's Mercy Hospital. The doctor's warned his traumatic brain injury (TBI) might
cause him to never be able to see, walk, or talk again. His only chance was to have an emergency surgery to remove the blood clot on his brain and put in two titanium plates. Over the following months, the physical pain slowly decreased but the emotional struggles increased. To give his brain a chance to heal, the doctors told him he had to eliminate most physical activity for the next two years. Thinking about all
the things he could no longer do made Brendan become more and more depressed. How could God let this happen? Maybe he should just give up and accept that he could no longer ever have a "normal" life as an independent adult.
Then, Brendan made a decision. He would not give up! He would focus on what he could control and trust God to take care of the rest. Philippians 4:13 became his life verse. Brendan might not be able to do certain things, but through Christ's strength, he could do what God wanted him to do. He focused on his school work and strengthening his muscles a little every day. Over the next four years, Brendan's dedication and faith revealed a bigger picture that he had once missed. In rehab, he saw other young men, who had suffered TBI injuries. These men could not talk, walk, or do basic life functions. Seeing Brendan and the progress he was making gave these men hope. Those men helped Brendan realize that God didn't abandon him in his injury. He shielded him, sent people to encourage him, and be with him
through every step. Instead of being upset about what he couldn't do, Brendan is now grateful for all
the things that he can do.
Choosing the Refiner's Fire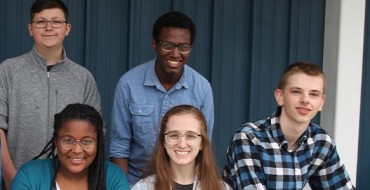 A few years ago, the members of the Class of 2021 might have written their life's stories a little
different if they had the choice. Now, they are grateful for each moment of their testimony. In the
refiner's fire their eyes were opened. In the flames they saw how they are not alone. God was and will
always be there with them through every step. He uses experiences the world wants us to believe
can only destroy a life to strengthen and refine His children into the change agents He will use to
transform for good their families, communities, and world. As the Class of 2021 has shown, we
only need to be brave enough to trust Him and the work He is doing.