How can I donate to Show-Me Christian Youth Home?
For your convenience we have several ways in which you can provide financial support to Show-Me Christian Youth Home.
Online: Make a donation online by selecting GIVE NOW in the upper right-hand corner of the page.
Mail: You can submit your donation by mailing a check to: Show-Me Christian Youth Home, PO Box 6, La Monte, MO 65337
What percentage of my donation goes directly to the care of the Children at Show-Me?
We are pleased to report that 77% of all donations go directly to support our programs and services.
Is it safe to use my personal information and credit card on your site?
Yes, we use an SSL certificate to keep your account/billing information secure on this site. We also use PayPal Payment Pro or PayPal Standard to process your credit card or PayPal transactions. All credit card and PayPal transaction information is stored on PayPal's secure servers and not on our site.
Will Show-Me Christian Youth Home ever sell my personal information?
No, Show-Me Christian Youth Home will not sell, share or trade our donors' names or personal information with any other entity, nor send mailings to our donors on behalf of other organizations.
Are my donations tax-deductible?
Yes, all monetary and gift-in-kind donations are tax-deductible to the extent of the law. Tax-deductible receipts are provided for all donations.
Can I use my credit card to donate?
Yes, we are able to process donations using Visa, MasterCard, American Express and Discover. To make a donation with your credit card, just select credit or debit card as your payment method. If you choose to create an account on our website we will store your billing information on your account for future donations. Your credit card information is NOT saved at any time. Creating an account is optional and not required to donate with your credit card. If you would like to create an account just check the "Save my billing information" at the end of the donation form.
Can I use my PayPal account to make a donation?
Yes, it is easier than ever to donate using PayPal. By selecting to donate via PayPal, you simply need to enter your email address. PayPal will take care of the rest.
Can I make my donation a recurring monthly donation?
Yes, simply check the "Make this a monthly donation". Your donation will occur the same day of the month, on which your initial donation is made.
How do I make changes to my monthly donation?
To make changes to a monthly donation using your credit card, simply call our office at (660) 347-5982. If you would like to make changes to your donation using PayPal, those changes will need to be made through your PayPal account.
Can I designate my donation in honor or memory of someone?
Yes, simply select one of those options under "Donate Funds" on the Give Now page. Show-Me Christian Youth Home will send a notification to the family or individual of the honoree. You may enter this information after selecting the appropriate option.
Can I designate my donation to a specific program or location?
Yes, you may make one of those selections under the "Donate Funds" section on our online donation form. To specify your donation towards a program not listed, you will need to contact our office at 660-347-5982.
What are the credit card processing fees to make an online donation?
We use PayPal as our credit card processor. They charge a non-profit organization 2.2% + $0.30 per transaction. This means that if you prefer the convenience of an online donation, just be aware that the full amount will not not be received by Show-Me. For example, if you donate $1000 online, only $977.70 will be sent to Show-Me Christian Youth Home. When possible, please consider sending in a check:
Donate via Mail:
Show-Me Christian Youth Home
24302 Mahin Road
P.O. Box 6
La Monte, MO 65337
* Please make checks payable to 'Show-Me Christian Youth Home'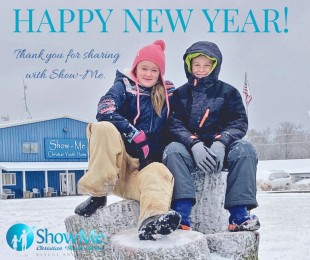 Show Me Christian Youth Home is a proud member of the Evangelical Council for Financial Accountability (EFCA). We are committed to maintain the highest levels of financial integrity by upholding the ECFA's Seven Standards of Responsible Stewardship.™
Donate via Mail:
Show-Me Christian Youth Home
24302 Mahin Road
P.O. Box 6
La Monte, MO 65337
* Please make checks payable to 'Show-Me Christian Youth Home'