From Trying to Survive to Learning to Thrive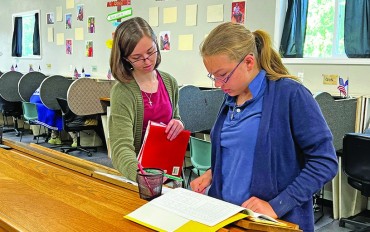 "If necessity is the mother of invention, discontent is the father of progress." David Rockefeller's words encompass the attitude, history, and future of the Show-Me Christian School (SMCS). It began in the basement of house #4 as a determined effort to give Show-Me's kids every advantage to succeed; it has grown over the last 20 years into a school with a nearly 100% high-school-graduation rate (National statistics show a graduation rate of 30%-50% for foster care youth with similar backgrounds).
No More Falling through the Cracks
For many of the children that find their way to Show-Me, school is a struggle because of the battles in their home life. It is not uncommon for kids to be four grade levels behind where they should be. Public schools do not always have the necessary resources or time to help them catch up. Feelings of failure, depression, frustration, and anger escalate if the cycle continues and the gap widens.
In 2000, due to too many students "falling through the cracks" either academically or socially, the Show-Me Christian School (SMCS) was created to provide students a new chance to succeed. Using the Accelerated Christian Education (ACE) program, each student is evaluated subject by subject to identify any learning gaps (core concepts that the child might have missed) and create an individualized academic path.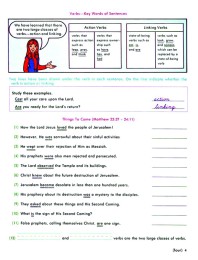 Students use PACEs—the ACE program's bite-sized self-instructional workbooks designed for thinking skills and the mastery of a subject—to reach daily goals. Each child consumes the information at their own rate, rather than being pushed or held back by their class. This approach empowers students to have control of their education and to own their success. Many kids who were falling behind in their former schools are able to catch up and graduate high school on time. "Show-Me was the first time I felt successful," explained Kayla. "The school allowed me to feel in control of my life and my future.  I set my pace and could still do my own thing, but with their structure, I found success."
Beyond teaching core subjects like math, English, literature, science, and social studies, the Christian worldview of the curriculum reinforces the importance of morals and Christian values in all aspects of life. Interwoven into each PACE are Scriptures and one of 72 Biblical character traits—all designed to help develop moral character, a sense of accountability, and wisdom in their life.
A Team Dedicated to Their Success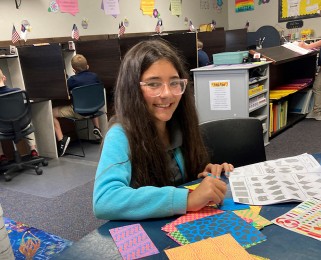 While the ACE curriculum provides a solid foundation for academic success, the greatest strength of SMCS is found in its people and the positive environment they create. Socially, the environment lends itself to developing self-discipline, as well as providing the necessary security and fostering needed confidence. Children are surrounded by a wide range of positive adult role models.
Many of the houseparents take on extra roles serving as teachers during the day. The additional help reduces class sizes to an 8:1 student-to-teacher ratio. The collaboration between the houseparents, teachers, and counselors provides each child with a team of support all working off the same page. Problems are identified sooner and corrective actions are reinforced in all aspects of a child's life. Whether at home or in class, there is always someone available to help each child keep moving forward.
"Children need to know they are seen, heard, and valued," stated Robin Blake, SMCS Administrator. "If a student is struggling, SMCS's individualized learning path means their struggle won't get lost in the chaos of the rest of the class."
Beyond Academic Success
Part of the Show-Me restoration process ensures each child knows they have value and God-given gifts. Academics, athletics, and the arts are places most kids discover they have talents. Once they realize success in one area of their life, it flows into all areas. That first discovery is critical in developing self-confidence and the courage to try new things. The school offers programs in music, arts, drama, and sports to provide avenues of discovery.
"Not all students find competence in academics," stated Director, Chad Puckett. "They need opportunities to explore competencies in other areas. That's why we give them space to find it in arts or athletics. This also helps them become well-rounded in all areas of life."
Signature Programs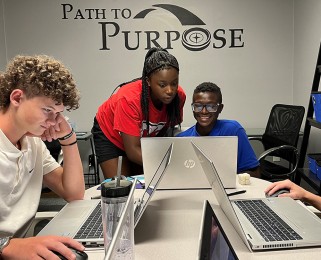 Always looking for ways to improve, Show-Me developed two signature programs over the last decade to better prepare our young people for the world they will face as adults. In 2011, the Path to Purpose program was created to teach life skills, technology training, and other career preparations through hands-on applications. Two years later, Leadership U was introduced to instill character, develop a strong work ethic, and give direction to the students as they learn to lead like Jesus through the training of horses and dogs.  Both programs provide real-life experiences and problem-solving opportunities.
In Leadership U, students learn to adapt their communication and leadership style to the personalities of each animal and situation just as a boss must do with their employees. "It taught me to chase my aspirations with everything I have and to prepare myself for what is to come through real-life experience, setting goals, and learning next-step skills," remarked Emily, a SMCS alumni who will receive her Bachelor's of Science in Nursing from College of the Ozarks this May.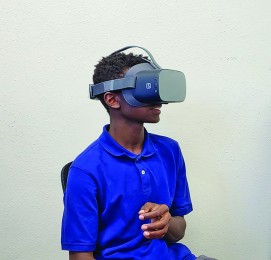 Using virtual reality, headsets, students will be able to have hands-on interactive experiences such as dissecting a frog or taking a field trip to ancient Rome.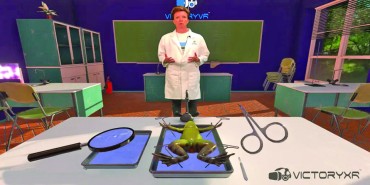 Traveling to Ancient Israel and Saturn's Rings
In 2020, Show-Me announced plans to expand the SMCS facilities to accommodate up to 85 students. The new 6,900 square-foot area will include a new room for the high school and a separate room for middle school students. The current 7th-12th grade learning center in the multipurpose building will be converted into a larger elementary school room. The additional space will allow teachers to work in groups without disrupting the rest of the class. Other spaces include permanent areas for classes like art and music. Part of the new addition will be a larger Path to Purpose center that includes a computer lab, virtual reality (VR) capabilities, and high-tech equipment like 3-D printers.
The added technology capabilities will provide students with hands-on opportunities to delve deeper into subjects like Chemistry, Biology, and Physics. In VR, students can dissect frogs or mix chemical compounds without the mess, smell, or danger of blowing up the classroom. They can travel to ancient Israel to hear Jesus give the Sermon on the Mount or fly to the rings of Saturn while still making it home in time for dinner.
"Our original dream goal was to have a dedicated science lab, but that required hiring a specialized teacher, buying costly equipment, and storing dangerous supplies," said Director Chad Puckett. "VR meant our students could have even more experiences at a fraction of the cost."
Never Stop Believing
The same spirit of innovation and refinement continues to develop new programs, opportunities, and a Show-Me family dedicated to the Show-Me Restoration Process: helping our children address the challenges of their past, prepare for a healthy future and an excellent eternity.