Karen Culler's legacy is not one of perfection; it is of faithfulness. Through many trials and challenges, she prayed, rolled up her sleeves and went to work – uncertain of God's plan, but confident in His calling. "I learned to trust God each step of the way…not giving in to asking 'why,' but simply keeping on keeping on," Karen said. "They will see us when we fail and fall short, but if we determine every day, anew, to live according to His standards, it will show that our lives are being transformed."
Living the American Dream
By the world's standards, Karen Kohn lived a picturesque, American life. She grew up on a farm near Bethel, Missouri, in a strong Christian family. Through her daily life on the farm, she developed a strong work ethic, the courage to try many things, and a deep personal faith.
A month after her high school graduation, she married her sweetheart, Gale Culler. Both had good jobs and looked forward to a house full of children. In 1967, the couple was blessed with their son, Troy.
Karen and Gale yearned to be used more by God, but without having a formal Bible-college education, doubts crept in and they struggled with what their mission was supposed to be. They kept praying for direction and serving where they were.
A Life Spared for What?
In 1971, Karen's pressure cooker exploded while she was canning peaches in her kitchen. Her body was severely burned, but her face was spared because her double oven had prevented the lid from flying all the way off. During her long hospitalization, she nearly died from infection. Gale and Karen both felt that God had spared her life and He must have a purpose for doing so.
Was it children? For years the couple tried to grow their family without success. They endured several miscarriages, and after the birth of Troy, they had been told by their doctor that any more children would be unlikely. How could God leave this overwhelming desire on their hearts?
Learning of an adoption option at Cookson Hills, the Cullers took a trip to receive a baby that needed a home and family. At the last moment, the baby's mother changed her mind and canceled the adoption. The Cullers were heartbroken.
Yet, the journey was not in vain. They were touched by how children were being loved for the Lord through Christian childcare families. The seed had been planted. They knew this was something they could do: take care of and love children. This feeling was confirmed when a friend called telling them about a need for houseparents at a children's home in East Tennessee. Soon after, the Cullers packed their car and headed south to start what seemed might be a dream come true.
"Love Them for What I Can Make Them"
In Tennessee, the dream quickly became a nightmare. The family ministry they envisioned was more an institutionalized setting. Gale and Karen were house parents for 13 teenage girls, all of whom did not want them there. None of whom seemed to have any desire to change. They did everything they could to get the family to give up and leave. It brought the Cullers to their knees.
"I have never been exposed to anything like this in my life," Karen cried out to God in anguish. "How can I live with them under my own roof?  How can I love them when they are so unlovable?" God's answer transformed her: "Love them for what I can make them, not for what they are today."
Gale and Karen came to realize that each of those hurting young people had been through more in their short lifetimes than they could ever imagine. The Cullers' rules, discipline, and even fortitude would not tear down the walls that the girls had put up to protect themselves. As one girl put it, "I never wanted to love you. Anyone I ever love leaves." The girls had to choose to lower the walls. By reflecting God's unconditional love, trust could be formed. With trust, the walls came down, relationships were built, and a family began to bond. Those lessons from Tennessee would prove instrumental in the next step of the Cullers' journey.
"It's Got Potential"
Ray Gipson, the Executive Director of Show-Me Christian Youth Home, had for years tried to court the Cullers to come see the Missouri ministry. Finally, on their next vacation, the Cullers visited Show-Me. At first glance, the struggling ministry in La Monte wasn't much to look at: three facilities that cared for six children, one calf, and a badly built barn. Still, the Cullers both felt with certainty that God was opening another door. Gale phrased it best, "It's got potential."
In 1977, they rolled up their sleeves and went to work. In addition to caring for children, Gale oversaw farm operations and Karen did the bookkeeping. Six months later, Show-Me had 18 children in residence and Gale was asked to become the Executive Director.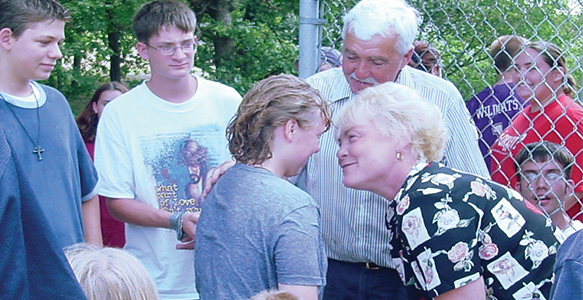 Their experience in Tennessee had shown them how an institutional setting wouldn't work as effectively as the rural-family structure in which they had grown up. Working together in a farm setting, the children would be taught a good work ethic, build character, and see God at work in their lives in spite of all the struggles of the past.
From livestock to houses, from children to staff, Show-Me grew and grew for the next 20 years. Each day began early with family prayer and devotions, then out the door to start chores before heading to school. The children were responsible for assisting Gale with the care of the animals, which included cows, chickens, and pigs. Karen worked with the girls throughout the day, cooked and cleaned, and spent late nights doing the book work and publicity.
Things were never easy, but God met them every step of the way. With limited resources, Show-Me tried to help as many kids as they could. Tight finances, uncertain futures, and dealing with kids during their "rough times" were facts of life. "The Lord is keeping it that way so we'll never forget to totally depend on Him," the Cullers would say.
Show-Me…Where Love Grows
Nevermore would that statement be personally tested than over the last 25 years of her life. The Cullers leaned heavily on the Lord through the loss of their only biological son, Troy, in a car crash.  Karen would face the failing health of loved ones, Gale's cancer and dementia, and finally her own battle with Lou Gehrig's disease. He would be with her as two of her grandchildren and Gale, her dear husband of 54 years, preceded her in death. Through it all, Karen remained faithful.
In 2011, Gale and Karen passed the baton to the next generation, having established a six-home campus with a Christian School, ball stadium and office complex, as well as satellite homes across the state of Missouri. Over 50 children were raised in her home and thousands under her leadership. She remains endeared by the staff, community, children, and the childrens' children, as well as everyone who knows her simply as Grandma Karen. Through their passion to meet the needs of hurting kids, the Cullers established an extensive network of support and provision of resources.
Ever faithful, Karen pressed on with the eternal work the Lord called her to do to make Show-Me a place "where love grows."